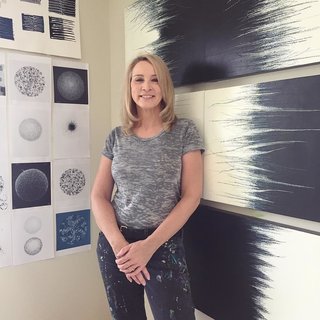 A quiet stillness to Barbara Kolo's work evokes a time of reflection. Inspired by natural forms and influenced by impressionist, Aboriginal, and Asian, art she developed a graceful meditative visual language, using dots or circles and lines. The paintings grow organically, with any resulting symmetry and order happening in the moment. In her "Obsession Series," she repeatedly hand stamps ink or acrylic paint circles with different degrees of pressure, creating imperfections and variation that show the artist's hand. Each dot or circle is then counted with tally marks that become part of the image. The total tally is the title of the work, and reflects the name of the series. On first sight, viewers are excited by the dizzying array of dots and then, the quietly meditative quality of Barbara's work.
Barbara Kolo was born and educated in New York. Having developed an appreciation for art from an early age, her interest in drawing and painting lead her to attend the High School of Art and Design, followed by the School of Visual Arts. She received her
BFA
from
SVA
.
During the 1980's Barbara built a career as an award-winning art director in creative advertising for films and television. She is the recipient of several Key Art Awards, a Don Belding Award, and a New York Festivals Gold Medal among many others. Her career brought her to Los Angeles in 1989. As an independent freelance art director she worked directly with major film studios and design studios specializing in film advertising. In 1991, she became the Director of Print Advertising at Universal Studios.
Barbara's early interest in drawing and painting had never diminished. During the early '90's, she followed the urge to develop her own personal artistic voice and began create her own works. Her drawings were soon being included in local and national group shows. Her focus slowly changed from commercial art to fine art.
The artist moved with her husband to Paris, France in 2000. She rented an art studio by La Bastille, and participated in "Genie de la Bastille" an event similar to the Venice Art Walk in California. Her paintings were part of several solo and group exhibitions in France including one at the Palais des Art in Marseilles. In 2003, the couple returned to Santa Monica. Since then, Barbara re-established herself in the local art community by participating in solo and group exhibitions.
Currently, Barbara has a studio in Santa Monica, CA and the following representation:
Fresh Paint Art Advisors, Culver City, CA
Artspace Warehouse, Los Angeles, CA
Galerie Reitz, Cologne, Germany
Slate Art, Oakland, CA
Barbara's work is held in public and private collections in the United States, Canada, France, Germany, Taiwan, Australia and the
UAE
.